The snow sports experience for groups
The varied experience package is best suited for group excursions or as a gift. It is also ideal for company outings, as it includes many great winter sports activities. So if you want to get to know the Heuberge right away with lots of activities and a typical berghaus fondue party, the experience package is the right choice.
The following services are included in the experience package:
1 mountain ride from Fideris to the Heuberge
1 day ski pass or snowshoe rental (redeemable on day 1 or 2) or sled pass
Fondue fun with Fondue à Discretion in the Berghaus
1 Röteli at one of our bars
Overnight stay in warehouse or shared room in one of our mountain houses
Breakfast in the mountain house
1 toboggan rental for the longest sled run in Switzerland
Price: From CHF 179.00 per person – CHF 199.00 per person in camp or double/multiple-room.
If the experience package is not enough for you, you can also combine it with other activities of the Heuberge.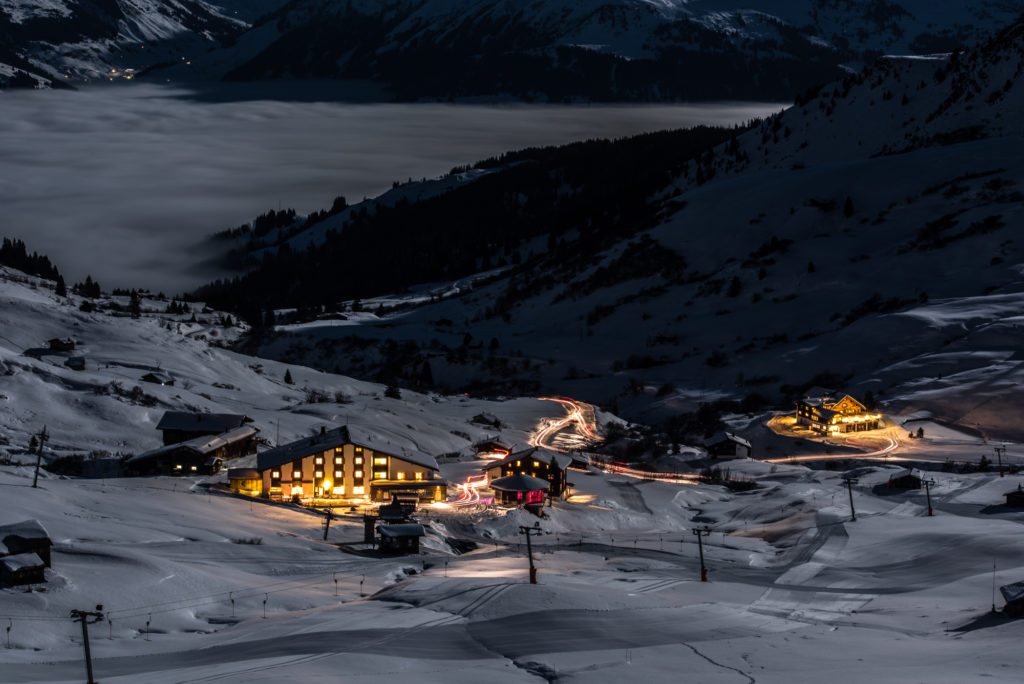 In addition, for example, airboarding on illuminated slopes can be booked.
Friday and Saturday evening from 20.00-22.00 after the fondue party
Cost CHF 34.00 per pers. incl. equipment rental and instruction.
Night sledding is also possible with the experience package.
Costs: Additional CHF 23.00 per person for the second bus ride in the evening
If you have chosen the sledding pass within the experience package, night sledding is also included for free!
Guided snowshoe tours:
Costs and implementation on request
Winter hiking on the winter hiking trail:
Cost: Nothing
Implementation: Anytime
More info about our winter activities
Airboarding
Fly over the snow at night on lighted slope with this action air cushion
Touren
In den Weiten der Landschaft auf sanften Hügeln die Natur erleben
Nachtschlitteln
Der längste Schlittelweg der Schweiz - Am Tag und im Mondschein ein Genuss